USAA Real Estate & McDonald Property Group Break Ground on 1.8MM SQFT Facility in Beaumont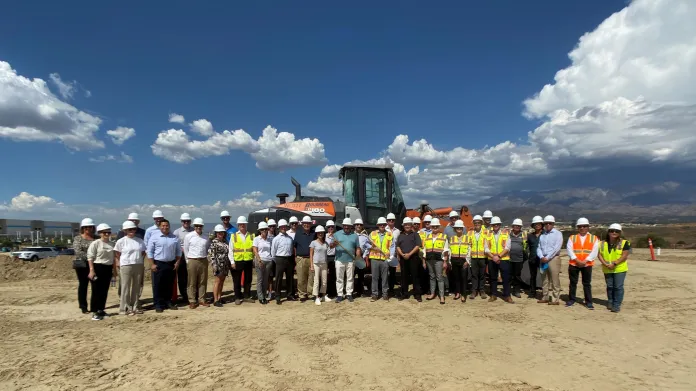 October 04, 2022
News

4

Minute Read
BEAUMONT, CALIF., October 3, 2022 —JLL announced today that USAA Real Estate and McDonald Property Group has broken ground on a 1.8-million-square-foot distribution center for United Legwear & Apparel Company, LLC (ULAC) in Beaumont, California. ULAC specializes in legwear, bodywear, apparel, and accessories for men, women and children, maintaining nearly a dozen highly recognized licensed brands such as Hurley, Champion, Fortnite, Van Heusen, Skechers, and a joint venture partnership with PUMA North America. Completion of the facility is scheduled for December 2024.
City of Beaumont officials and departments heads along with executives from USAA Real Estate, McDonald Property Group, ULAC, JLL, CBRE, HPA Architecture and Fullmer Construction Company participated at a groundbreaking ceremony on September 28. The architect of record, HPA, Inc. has designed this significant project.
"HPA is well known throughout the entire Inland Empire region for its long-standing expertise in designing large industrial logistics facilities and ownership specifically selected HPA for this reason," said Bruce McDonald of McDonald Property Group.
The building, located at Phase II of the Crossroads Logistics Center, a master-planned project at the intersection of Interstate 10 and Hwy. 60, will be used to accommodate ULAC's global design/manufacturing, marketing, sales, and distribution. It will contain assembly, racking, and state-of-the-art material handling conveyor automation systems and includes approximately 30,000 SF of office space. This one-half mile long building will be distinguished as one of the largest known industrial buildings in the entire Southern California region.
"This groundbreaking is a key milestone for the continued growth of United Legwear & Apparel Company in the United States," said Chris Volpe, chief operating and financial officer of ULAC. "This amazing facility will be a catalyst to our commitment to our customers and the community for years to come."
Luke McDaniel, Cameron Driscoll, Jeff Bellitti, and Mac Hewett of JLL represented United Legwear. David Consani, Jim Koenig, Darla Longo, Barbara Emmons of CBRE and Rick John of Daum represented McDonald Property Group and USAA Real Estate in the lease transaction which was signed in July 2022. The architecture firm of record is HPA Architecture, and the general contractor is Fullmer Construction Company.
This new ULAC massive structure is positioned on 85 acres known as Phase II of the Crossroads Logistics Center, a master-planned project at the intersection of Interstate 10 and Hwy. 60, which also includes an under construction 816,000 SF build to suit facility. Wolverine Worldwide's fulfillment center and another build to suit fulfillment facility were both recently developed as Phase I of Crossroads in 2017 and 2020 by the USAA Real Estate and McDonald team. A new Highway 60 freeway interchange overpass benefits and provides additional access for the project near the east entrance. The property is 78 miles from the Port of Los Angeles, proximate to railways and the new FedEx Ground sorting and distribution center in Palm Springs, making it accessible to various intermodal transportation routes.
ABOUT UNITED LEGWEAR & APPAREL COMPANY
Founded in 1998 by Isaac E. Ash, United Legwear & Apparel Co., (ULAC) is a New York based global design/manufacturing, marketing, sales and distribution company specializing in legwear, bodywear, apparel, and accessories for men, women and children. ULAC maintains nearly a dozen highly recognized licensed brands such as Hurley and Champion and is a joint venture partner to PUMA North America. For more information visit www.unitedlegwear.com
ABOUT MCDONALD PROPERTY GROUP
McDonald Property Group is an industrial development company that develops large scale industrial projects, both in joint ventures with institutional capital partners and on behalf of REITs in a non-partnership capacity. The company was formed in 2013 by Bruce McDonald, an established Southern California industrial developer who has developed over twelve million square feet of industrial space both as McDonald Property Group and previously as co-founder of Master Development Corporation from 1995-2010. McDonald is experienced in providing development services to many institutional capital partner relationships, having recently worked with USAA Real Estate, First Industrial Property Trust, Black Creek Group, State Teachers System of Ohio, and USAA. McDonald Property Group is a licensed general contractor and real estate broker and currently manages six million square feet of industrial property through its property management affiliate. For more information, visit www.mcdonaldpropertygroup.com.
ABOUT USAA REAL ESTATE
Along with its affiliate companies, USAA Real Estate invests across the risk spectrum for a global client base, managing over $36 billion in net assets under management within a diversified portfolio across North America and Europe. USAA Real Estate provides strategic equity and debt capital, including to capitalize on the accelerating demand for technology-driven real estate assets, to meet the critical need for housing solutions, and for other market and capital structure opportunities exhibiting compelling risk-return characteristics.
About JLL
JLL (NYSE: JLL) is a leading professional services firm that specializes in real estate and investment management. JLL shapes the future of real estate for a better world by using the most advanced technology to create rewarding opportunities, amazing spaces and sustainable real estate solutions for our clients, our people and our communities. JLL is a Fortune 500 company with annual revenue of $19.4 billion, operations in over 80 countries and a global workforce of more than 102,000 as of June 30, 2022. JLL is the brand name, and a registered trademark, of Jones Lang LaSalle Incorporated.