McDonald Property Gets Clearance for Ontario Development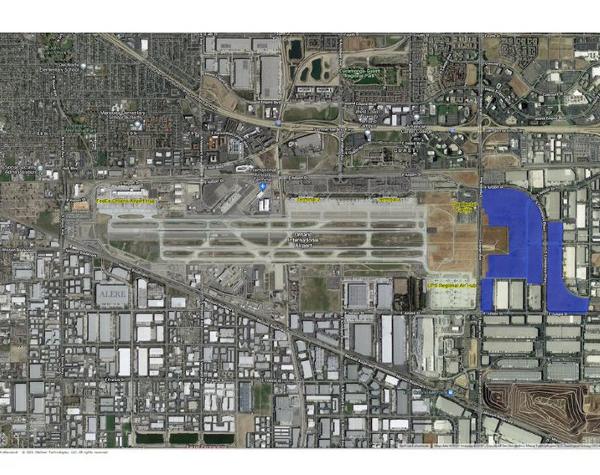 January 10, 2022
News

4

Minute Read
Industrial developer McDonald Property Group of Newport Beach has landed a long-term deal to develop and oversee a large new project next to the city of Ontario's airport.
The Ontario International Airport Authority (OIAA) Commission last month announced that a venture between McDonald Property and frequent financial partner USAA Real Estate Co. of San Antonio had been selected to redevelop a 198-acre vacant parcel, designated as surplus property, to the immediate east of the airport.
The venture beat out 17 other interested parties to win the business, according to the OIAA.
The city will continue to control the land, and the JV will operate the site under a ground lease that will run 55 years, according to a statement from the OIAA.
The size and scope of the industrial project hasn't been disclosed. Local reports suggest that portions of the land will need to be set aside to accommodate environmental issues like a rare burrowing owl that nests in the area.
The deal will generate approximately $275 million over the first 10 years of the ground lease, the airport agency said.
The deal calls for a non-refundable $10 million deposit to OIAA. After allowing time for the JV between McDonald and USAA to obtain local jurisdictional entitlement and environmental approvals, rental revenue to the OIAA will start at $25 million in the first year, increasing in five-year increments. Revenues generated by the project will be used for airport purposes.
Revenue of $90.6 million per year is expected in the final five years of the long-term lease.
The deal marks "the first of several major real estate transactions to monetize vacant property since the airport was transferred to local control in November 2016," Alan Wapner, mayor pro tem of the City of Ontario and president of the OIAA Board of Commissioners, said in a statement.
McDonald Property Group, led by founder Bruce McDonald, has built numerous industrial projects in and around Ontario, often with USAA as a partner.
In the city, it has developed over 4 million square feet on 250 acres. Notable projects there include Thoroughbred Business Park, its "signature master planned 2 million square feet, 11-building park."
"Given our long track record of success with McDonald, it is our vision that the Ontario International Airport project will continue in that tradition and become one of the most prominent industrial/logistics developments in the region," Steven Ames, Managing Director-Investments of USAA, said in a statement.
USAA has about $30 billion of assets under management.
Bruce McDonald was previously president of Newport Beach's Master Development Corp., and after that served as managing director and head of U.S. investments for Australia's Dexus Property Group.